Amazon CEO Jeff Bezos has reached a record high in terms of the amount of wealth owned by a single person. The net worth of Bezos on Monday, reached a whopping $105.1 Billion, as per Bloomberg's Billionaire Tracker. This ranks Jeff Bezos as the richest person of all time.
Previously, the spot was held by Microsoft founder Bill Gates, who has been left behind by the Amazon genius for the third time now. Bezos had been ranked as the world's richest person twice before, back in July as well as October, as the Amazon shares shot to their record high. He managed to cross the $100 Billion net worth mark during the holiday shopping season of 2017 back in November.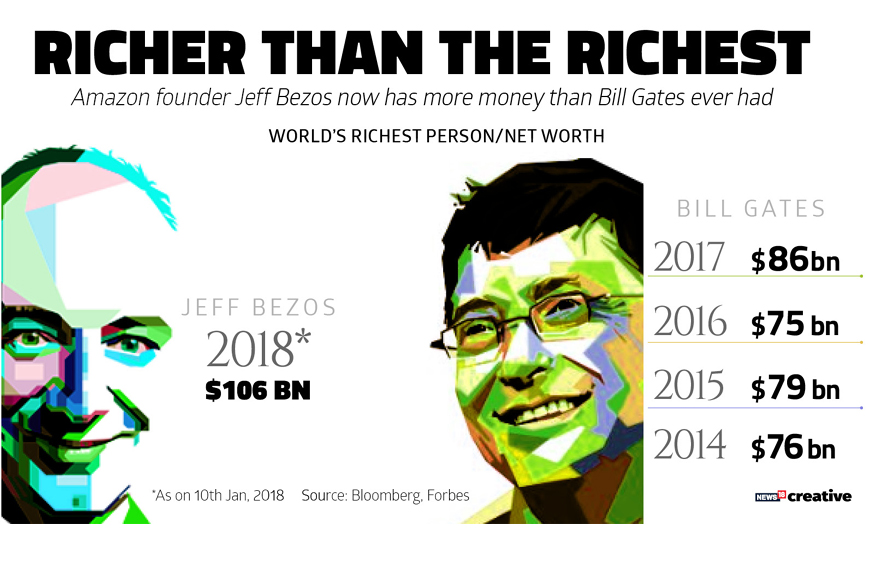 Majority of Bezos' net worth is linked to the 78.9 million Amazon shares that he owns. As the Amazon shares rose by 1.4 percent on Monday, around $1.4 Billion were added to his net worth. In addition to the Amazon shares, Bezos also owns the Washington Post and Blue Origin, a private space travel firm that aims to initiate space tourism.
So far this year, Amazon shares have experienced a 7 percent increase, after a promising 56 percent growth last year.
But let us not forget about the Microsoft founder just yet. Currently, Forbes reveals his net worth to be $91.9 billion and as per Bloomberg, it is $93.3 Billion, placing Gates on the second position of both these lists. This is still unmatchable to what his net worth must have been, had the entrepreneur not indulged extensively into charitable causes. As per Bloomberg, Bill Gates has till date given away 700 Million shares of Microsoft, evaluating to $61.8 Billion as per their value today. In addition, Gates has also donated $2.9 Billion in cash. Evaluating all of these, Gates' net worth easily crosses north of $150 Billion.
Watch: Honor View 10 Review | At Rs 29,999, Is it the OnePlus 5T Killer?
Xperia XZ Premium van Sony
Ontdek nu de Xperia XZ Premium. Laat je inspireren!
Technics SB-1000 Большой обзор (Коносукэ Мацусита) Oldplayer.ru
Technics SB-1000 Большой обзор (Коносукэ Мацусита) Oldplayer.ru.