GoPro is known for making amazing action cameras. Their hero range of action cameras are widely used in India by adventure sport enthusiasts and also a lot of motoring journalists to shoot cars. The popular action cameras that have seen a lot of fan following in recent times are the GoPro Hero 5 and the latest Hero 6. Now, GoPro plans to ride on the Virtual Reality (VR) train and get these adventure enthusiasts to start creating video content in 360-degree. It's not been an easy for 360-cameras to up the enthusiasm among content creators in the last 5 years. We have seen companies like Ricoh, LG, Samsung foray into that space but the output was generally not that great as the regular cameras have these days. For GoPro is a bold move to capture this space with the Fusion, but is it worth the price tag of $700 (Approximately Rs 45,000)? We find out in our review.
Also read: Top 5 Android Smartphones Under Rs 20,000 Launched in 2018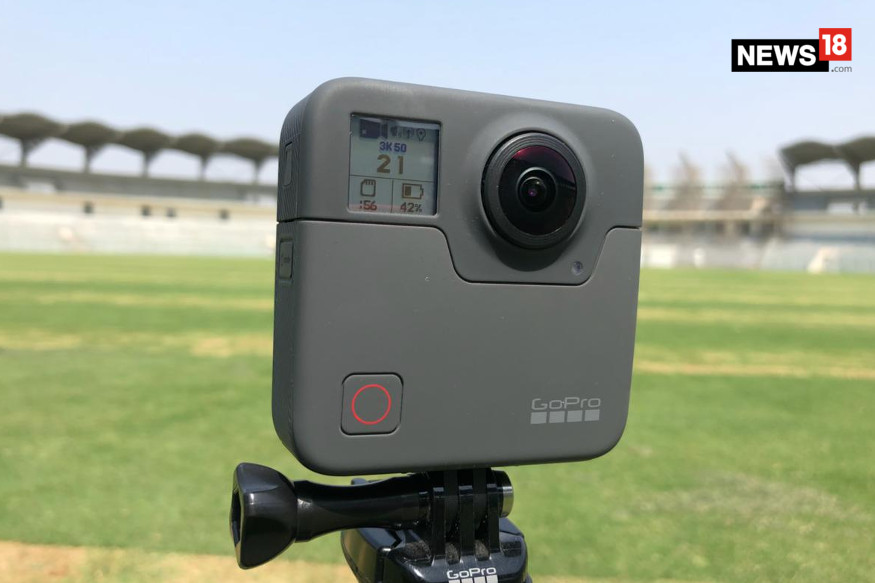 (Image: Siddhartha Sharma/News18.com)
What's Cool?
GoPro Fusion is a 360-degree camera with a dual lens setup on both the sides of the camera. The design of the Fusion is nothing like you have seen with earlier GoPro cameras. It's bigger and heavier than the GoPro Hero 5 & Hero 6. The body also has a rubber finish to it as it has to be waterproof. The dual camera setup on the Fusion sports 18-megapixel sensors that have a fisheye lens to it to capture 360-degree view. The lenses protrude out of the body of the camera and are prone to fingerprint smudges and scratches, so you have to be a little careful with this camera. GoPro does provide a carry case within the box so make sure you keep the camera in it at all times. The body of the fusion also has a small display that does not act as a viewfinder but just provides minimal information about shoot modes, recording and connecting the Fusion to you phone via the GoPro App. This is also means that most of the navigation on the camera will be done by the Mode and Shutter buttons on the fusion. At the bottom the Fusion sports a regular bracket for mounting on different GoPro mounts. Compared to the old GoPro cameras the Fusion has the biggest battery on a GoPro camera till date, rated at 2,620 mAh. And since this is a 4K 360-degree action camera, GoPro felt the need of having two-microSD card slots. Why is that? Because there are two different sensors on both the cameras of the GoPro Fusion. The images as well as the video files are captured separately on both the cards. And yes, you do need cards to be placed in both the slots for the Fusion to work. Also, you'll need to transfer these images to you phone via the GoPro App or you PC via connecting to the GoPro to get stitched 360-degree action shots. If you try getting image directly through the micro SD cards you'll have to stich them on your own using Adobe Premiere Pro or FCP. There is also a desktop app called Fusion Studio for seamless extraction of content from the Fusion. That is usually a longer process. So, the best thing to do is to transfer it directly from the GoPro Fusion. The maximum capacity micro SD cars that are supported by both the slots is just 128 GB which is a bit of a downer but works for quick action shots.
Also read: Vivo V9 Video Review: The First Android Clone of iPhone X to Reach India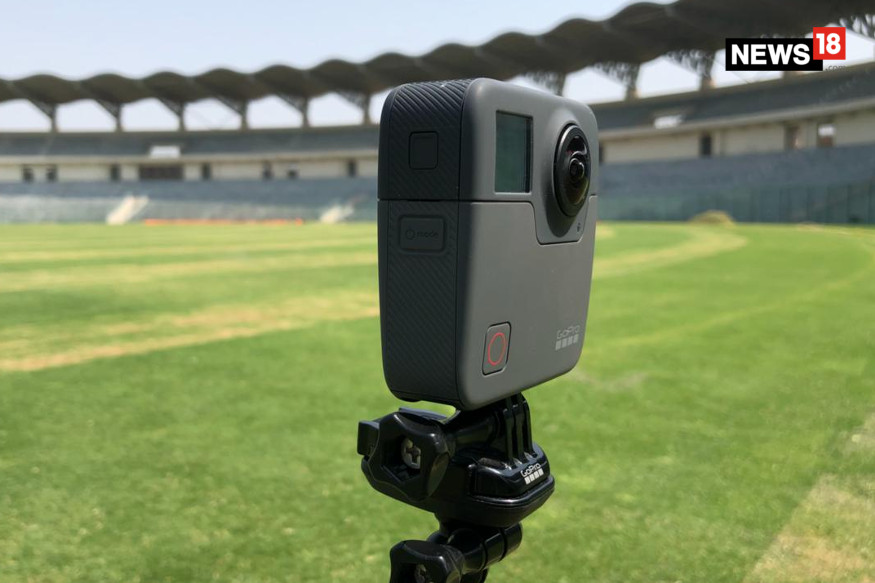 (Image: Siddhartha Sharma/News18.com)
Additionally you get three inbuilt mics on the Fusion and a USB Type-C port for data transfer and charging. The built quality is one of the finest that you'll see on a GoPro camera till date and the Fusion gives you a premium feel. In fact it won't be wrong to say that it's the most premium 360-degree camera till date from any company. Using it is just like any other GoPro camera so if you have owned one before you'll be easily able to handle it. GoPro fusion is capable of shooting spherical videos up to 5.2K with a resolution of 4992×2496 at 30fps. It also gives you an option to shoot in 3K with 3000×1504 resolution at 60fps. For 360-degree photos you can shoot in auto, burst, and night photo settings. To see the frame that you have made you'll have to sync the Fusion with your GoPro App on an Android phone or an iPhone over Wi-Fi as well as Bluetooth. Your device then becomes the viewfinder for the Fusion. But before you buy the Fusion you'll have to check whether your phone is Fusion compatible. As many budget phones are not. But if you have an iPhone 6S and higher you are pretty much safe there.
WATCH VIDEO: Vivo V9 Review: First Android Clone of iPhone X in India
GoPro Fusion also gives you options of having videos in various resolutions and also supports codec's like H.264, CineForm '422 High' or ProRes 422. For audio you can choose between stereo or 360-degree audio. The best thing is that on the GoPro App you can edit your 360-degree video into a 16:9 video format where you can decide what camera movement you want on your 360-degree video. This 16:9 aspect ratio or standard aspect ratio video can be used in your regular content and will be a regular video and not a 360-degree one. So it's optional whether you want to use the Fusion as a pure 360-degree camera or a regular camera with a wider perspective. This in our opinion is the best USP of the GoPro Fusion. The quality of video and images in 360-degree is way better than what other 360-degree cameras in the market have to offer. These are not that detailed as well for large open spaces, but for close spaced shooting and action videos quite accurate and detailed. GoPro Fusion in terms of quality video and image experience in 360-degree is the best one available over the counter.
Also read: HP Unveils ZBook Studio x360 as 'World's Most Powerful Convertible PC'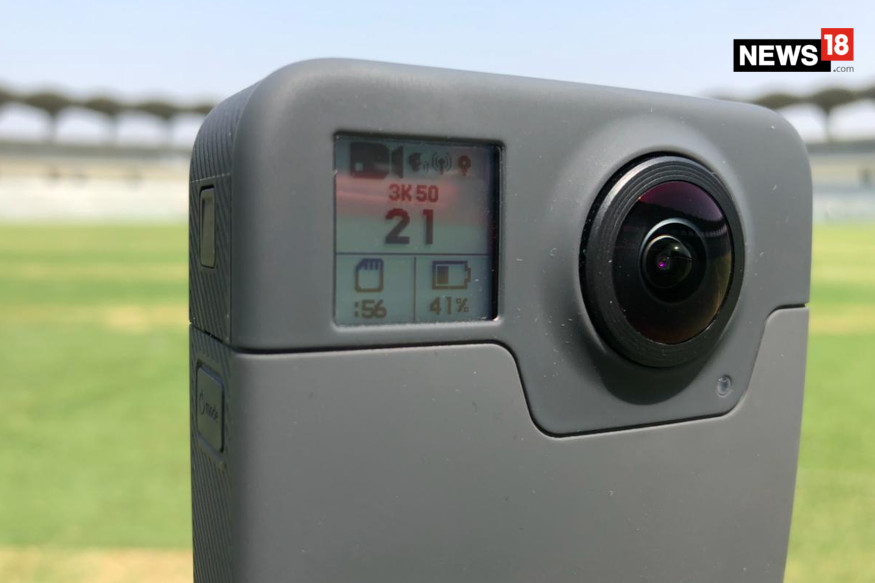 (Image: Siddhartha Sharma/News18.com)
What's Not So Cool?
Despite a large battery, the GoPro Fusion for us lasted only for an hour and half, but as this space progresses, we hope GoPro will better the battery management on its future 360-degree cameras. Also if you use the camera for a shot longer than 15 minutes the camera tends to get really hot and that's something that was concerning for us. Also, the GoPro App when used on the iPhone X did crash many times as well as stopped in between while transferring the footage or an image. This for us was a bit of a hassle. On the Google Pixel 2 XL however it was seamless performance and sync between these two devices. Also, this is not a camera that's available in India yet. You can only get it on GoPro's website and you have to ship it in India.
Also read: Top 10 Indian Cities With Best 4G LTE Coverage: Not Delhi, Bengaluru But Patna No. 1
Verdict
Now, this is the first attempt by GoPro to make a 360-degree camera and we are hugely impressed by what they have done here. GoPro has shown that this not so old and still evolving technology can be done right only if you choose to correct the finer details. Many might say that the Fusion does look like an unfinished product but we think it's the beginning of what GoPro can do with 360-degree and VR content creation in the future. Right now if you are a content creator and have already used other 360-degree cameras and need an upgrade, the GoPro Fusion is the one for you. For people who are looking to foray into this space, spending $700 might not be the right choice till you have experimented with other cheaper options of 360-degree camera. But if you are a sucker for quality, this is the best 360-degree camera you can get your hands on right now in 2018.
WATCH VIDEO: Samsung Flip First Look | Convert Any Space Into Smart Meeting Room
Also Watch

Salman Khan Judgment Reaction: Jodhpur and Mumbai React as Superstar Gets 5 Years in Jail

Wednesday 04 April , 2018

YouTube Attack : Four Injured In Shooting At Company Headquarters

Wednesday 04 April , 2018

Why CBSE Decided Against Class X Re-Examination

Monday 02 April , 2018

Terminator Says 'I'm Back' : Arnold Schwarzenegger ​Wakes Up From Heart Surgery in Style

Monday 02 April , 2018

Bharat Bandh Explainer: Why Dalits Took To The Streets in Protest