Huge advertiser threatens to turn off Zuck's money tap
Speaking today at the Interactive Advertising Bureau's annual leadership meeting in Palm Desert, California, Unilever's chief marketing officer Keith Weed used his keynote speech to blast the Mark Zuckerberg-run Facebook, and other social media companies, for what he said was an "erosion of trust."
"We are a million miles from the internet we envisioned," said Weed. "Without trust, there is no data and without data there is no brand." This erosion transcends other issues, he warned, adding: "We need to redefine what is responsible business in the digital age. We will only do business with companies that have responsible infrastructure."
Although Weed did not name Facebook, the comments were so obviously aimed squarely at the social media giant, particular a comment about how there needs to be "one measurement system across all media, including walled gardens."
Facebook is notorious for using the fact it is a self-contained universe to provide its own metrics and reports on ads, their reach, and their effectiveness. In perhaps the most obvious example, Facebook pushes advertisers to pay to promote their own Facebook page; an extraordinary online circle jerk.
Organizations have also long complained about Facebook's internal ad network and its accuracy – research last year revealed that the Silicon Valley giant promised advertisers access to 41 million 18-to-24-year-olds in the United States when only 31 million exist – but the platform's ability to reach key consumer groups that no longer use traditional media like newspaper or cable TV has given it plenty of free rein.
Had enough
No longer it seems. As CMO of one of the world's largest corporations – an organization that dominates several industry sectors with brands from Comfort, Dove, and Magnum to Marmite, Persil and Surf – the message from Unilever's Weed is stark. It will almost certainly galvanize a marketing industry that Facebook is almost entirely reliant on for its vast profits. Unilever spent $9.4bn on advertising last year, beaten only by Proctor & Gamble.
"As one of the largest advertisers in the world, we cannot have an environment where our consumers don't trust what they see online," the Weed-whacker continued. "We cannot continue to prop up a digital supply chain – one that delivers over a quarter of our advertising to our consumers – which at times is little better than a swamp in terms of its transparency."
Just in case the message wasn't loud and clear enough already, Unilever provided copies of the speech to large media outlets in advance of the speech, with quiet hints that Weed will be referring to Facebook in his outburst.
During Weed's Monday morning keynote, one slide was headlined "Unintended consequences need to be owned," and read: "Unilever will not invest in platforms that do not protect our children or which create division in society. We will prioritize investing in responsible platforms that are committed to creating a positive impact in society."
Another was titled "Taming the Wild West (Coast)" – referring to the West coast of the US and in particular Silicon Valley where most social media companies are based.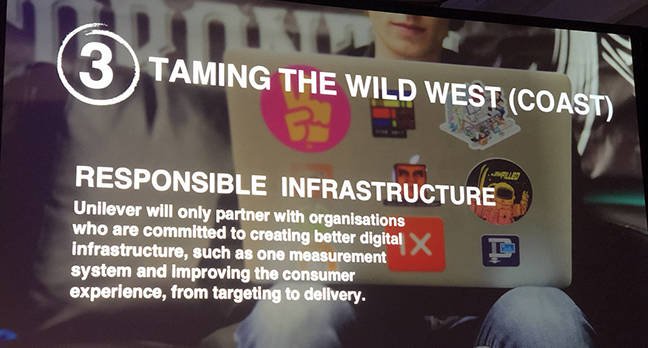 The message has been delivered loud and clear, but the markets at least have not been rattled: Facebook's share price dropped four per cent this morning but when it became clear that Unilever was not immediately pulling its advertising and that the speech did not reflect widespread agreement from the marketing industry, the share price recovered to the same price as the start of the day.
Not happy
That said, it is yet another warning shot across Facebook CEO Mark Zuckerberg's bows, following a year of anger from lawmakers and policymakers in the United States and Europe.
In the US, Facebook is under fire – including from former employees – for its spreading of fake news; and in Europe, it is being attacked for failure to properly consider user privacy and remove unlawful content.
On Monday, it emerged that a German court had found Facebook guilty of breaking data protection laws for failing to gain user consent before making changes to privacy settings. The court also decided several key terms and conditions – including the controversial insistence that people give their real name when signing up for the service – were unlawful.
In short, it is shaping up to be a torrid year for Facebook. It is losing users, has been subject to an increasing number of laws and critical hearings, and now it is being struck where it really hurts – the wallet. ®
A New Generation of Craftsmanship - Technics
Find how Technics brand was re-born in 2014 and behind the scene of SL-1200GAE development. *This is the edited version of ...
Xperia XZ Premium van Sony
Ontdek nu de Xperia XZ Premium. Laat je inspireren!