WhatsApp is planning to a launch a new feature very soon that will allow users to "lock" voice recordings that you are sending to someone. But don't be of the impression that you can actually lock the voice recording file with a pin or password. In fact, it is a minor experiential upgrade for someone who sends a lot of voice recordings. So, what exactly is this lock voice recordings feature? Earlier, if you wished to send a voice recording to someone over WhatsApp, then you had to continue to press the mic icon and the moment you released it, the voice recording was sent. This process is a bit difficult if you had to send a long voice recording. Now, with the new update, you can lock the recording feature and continue to record your voice without having to press the mic icon. The experience is similar to using a voice recorder app to record the entire message and then send it. Also, the option to slide-left-to-cancel recording remains.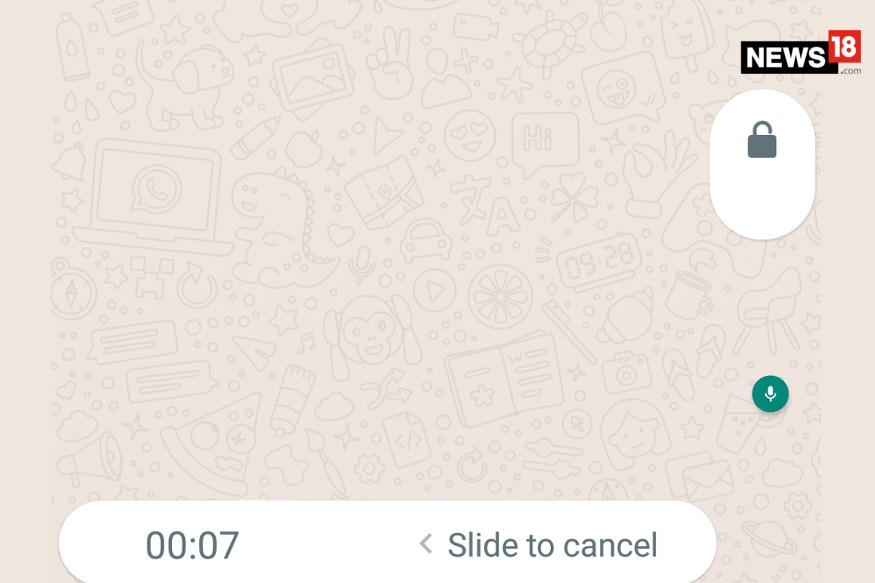 Screenshot (Image: Debashis Sarkar/News18.com)
Also read: The Rs 2000 Crore Bitcoin Fraud: Over 8,000 People Duped, Delhi 'Entrepreneur' Arrested
In another news, a new spy app named "ChatWatch" was recently revealed that it is letting its users keep a track of their WhatsApp contacts. The app uses WhatsApp's Online and Offline status to monitor the behaviour of its user's contacts on the instant messaging platform. Available on the Google Play Store, the description of the spy app mentions 'Check each WhatsApp login and logout' in addition to 'see Online History timeline for every day'.
Originally meant to monitor one's own surfing habits on WhatsApp, the ChatWatch can easily be used to do the same for any other contacts on one's list. At a time when Facebook is facing major heat for the concerns over user data privacy, such an app on the Google Play Store raises similar concerns for WhatsApp.
WATCH VIDEO: Vivo V9 Review: First Android Clone of iPhone X in India
Talking about data privacy, unconfirmed reports of "Israeli users connected to WhatsApp via Facebook servers" have raised another wave of privacy concerns for WhatsApp users as the popular chat platform is now owned by Facebook. While WhatsApp is yet to officially comment, reports claim that this "will ensure better quality of connectivity" for all WhatsApp users in Israel. Note that WhatsApp using Facebook servers has been reportedly only in Israel as of now.
Also read: Twitter Suspends One Million Accounts For 'Terrorism Promotion'
"We are a part of Facebook now and contribute to Facebook's transparency report…but because of End-to-End (E2E) encryption enabled by default on WhatsApp, the contents of the messages are not visible to anybody except for the sender and recipient," said WhatsApp spokesperson Carl Woog during his visit to India in August 2017 when he was questioned on "WhatsApp E2E Encryption: What Data the Police Gets And What Not."
The content of the messages sent and received between two users are end-to-end encrypted. Also, WhatsApp never stored chats on its servers, even prior to introducing E2E encryption. But the problem is not with the messages but metadata. For those unaware, WhatsApp collects some metadata from each and every user when they use the platform. WhatsApp has also confirmed that this metadata information could be passed on to law enforcement agencies or government when requested.
Also read: Flipkart Partners With MakeMyTrip For Online Bookings
WATCH VIDEO: Samsung Flip First Look | Convert Any Space Into Smart Meeting Room
Also Watch

Salman Khan Judgment Reaction: Jodhpur and Mumbai React as Superstar Gets 5 Years in Jail

Wednesday 04 April , 2018

YouTube Attack : Four Injured In Shooting At Company Headquarters

Wednesday 04 April , 2018

Why CBSE Decided Against Class X Re-Examination

Monday 02 April , 2018

Terminator Says 'I'm Back' : Arnold Schwarzenegger ​Wakes Up From Heart Surgery in Style

Monday 02 April , 2018

Bharat Bandh Explainer: Why Dalits Took To The Streets in Protest