After the confirmation of OnePlus 6 as the next flagship smartphone by the company, OnePlus is now expected to bring an accessory along with the launch of the OnePlus 6. As per a recent listing on Bluetooth certification website, a set of wireless earphones by OnePlus might be making their way to the market soon. As the earlier 'wired' earphones by the company were called OnePlus Bullet, the upcoming ones are expected to be termed as 'OnePlus Bullet Wireless'.
Now the listing has revealed a limited set of information about the earphones. OnePlus Bullet wireless comes with the model number BT31B and is powered by a Qualcomm BlueCore CSR8645 chipset. It offers Bluetooth 4.1 connectivity and might just sport a complete wireless connectivity like the Apple Airpods.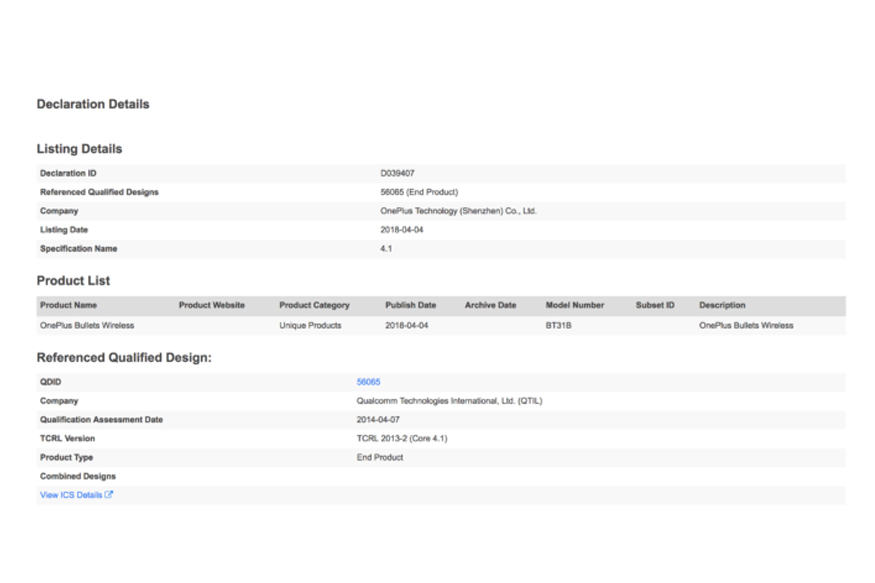 Also read: Xiaomi Mi Fan Festival: List of Discounts And Combo Offers on Smartphones, TV, Wearables And More
The wired counterparts of these, launched two years ago, are still available for purchase online at a price of Rs 1,199. The interesting part, however, is that the company which is always supportive of a 3.5mm audio jack might be going for a wireless set of earphones as its next accessory offering. This, after certain leaked images of the smartphone have revealed a 3.5mm audio jack as well.
As far as information about the OnePlus 6 is concerned, the smartphone is expected to come with a Qualcomm Snapdragon 845 SoC coupled with an 8GB RAM and a 256GB internal storage. The smartphone is expected to be unveiled by the end of this month, along with the OnePlus Bullet Wireless.
Watch: Tech and Auto Show | EP35 | Mercedes-Benz S-Class, Samsung Galaxy S9+ & More
Also Watch

YouTube Attack : Four Injured In Shooting At Company Headquarters

Wednesday 04 April , 2018

Why CBSE Decided Against Class X Re-Examination

Monday 02 April , 2018

Terminator Says 'I'm Back' : Arnold Schwarzenegger ​Wakes Up From Heart Surgery in Style

Monday 02 April , 2018

Bharat Bandh Explainer: Why Dalits Took To The Streets in Protest

Tuesday 03 April , 2018

CWG 2018 : Hearing on Cards After Syringes Appear in Games Village