A look into Big Blue and Lenovo's forays into beloved black boxes
This 336.6 mm x 232.5 mm x 19.95 mm ThinkPad 25 has the seven-row keyboard beloved by ThinkPad devotees but which Lenovo dumped in 2011, the familiar nipple mouse and a special logo and design to celebrate the 25th anniversary of the first ThinkPad, the 700C, which launched on October 4, 1992.
"ThinkPad design creates a powerful and synergistic relationship between form and function. It balances sophisticated aesthetics, thoughtfully crafted user experiences and renowned engineering in order to deliver superior products," said David Hill, former chief design officer at Lenovo, on Thursday. "25 years after the introduction of the original 700C, the latest X1 Carbon is immediately recognizable as a ThinkPad."
The new machine isn't cheap, even by ThinkPad standards. $1,899 gets you an Intel Core i7-7500U processor, 16GB of RAM and a 512GB solid state hard drive with a Nvidia GeForce 940MX 2GB GDDR5 graphics card to keep things moving.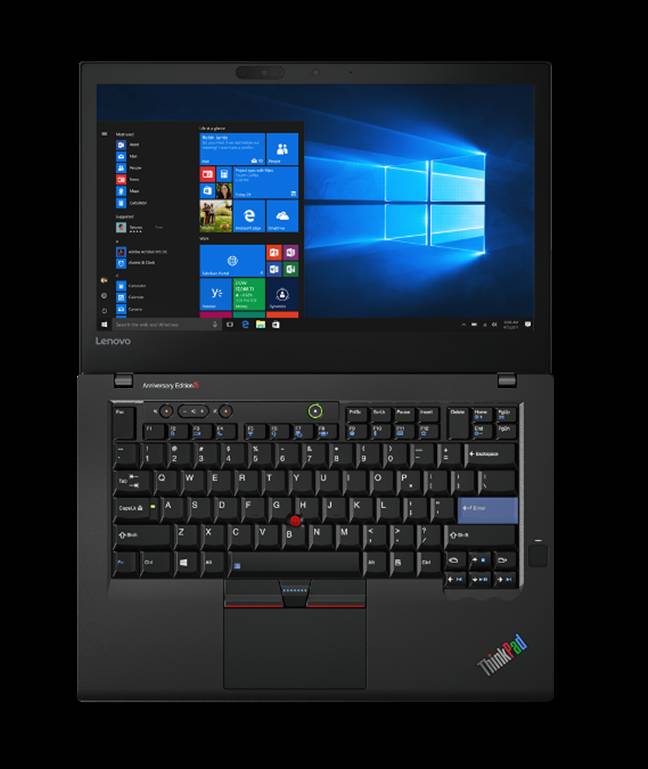 On the port side, the ThinkPad 25 is lavishly equipped – three USB 3.0 sockets, a USB-C with Intel Thunderbolt 3 port, Ethernet, HDMI, 3.5mm audio jack, and a four-in-one card reader. The whole unit weighs 1.6 kg and Lenovo claims the battery will last 14 hours between charges.
There are a few things missing that might upset purists. The keyboard is backlit but there's no light built into the top of the lid shining down onto the keys – which used to be very handy for reading documents in darkened conference sessions.
But as a lifelong ThinkPad devotee it's a tempting purchase, even at such a high price. Your humble hack's old X220 is one of the last units with the old-style keyboard, which is why it's in service six years later despite being so slow to boot you can make a cup of tea and be back before it's ready to use.
That's the kind of devotion these machines can elicit in some. The history of the line is littered with similar cases of people who will give up their ThinkPads only when our cold, dead fingers are pried off them.
The making of a legend
The original ThinkPad was the brainchild of much-missed designer Richard Sapper and Arimasa Naitoh. The machine was a brave foray for the stodgy managers at IBM into the mobile computing market.
Ten years before the first ThinkPad landed, IBM had dominated the business PC market but the years hadn't been kind to Big Blue since. After doing enough reverse engineering to make IBM-compatible PCs, and IBM's subsequently unsuccessful attempt to lock down PC designs to its own specifications, the company was facing serious competition.
Laptops had been around since the early 1980s but they were heavy as hell, bulky, and not particularly user friendly. Apple introduced the PowerBook in 1991, arguably the first laptop that was pleasant to use, and the ThinkPad was IBM's response.
The original ThinkPad (or to give it its proper name, the IBM 2521 ThinkPad) was a prototype tablet that went down like a lead balloon and was soon discontinued. So the laptop team stole the name and built their first prototype laptops
The first ThinkPad laptop was styled to look like a Japanese bento box and was the same size as a sheet of A4 paper. At first Naitoh thought that the test machines would be treated gently, since they were so expensive, but the test models came back with scratched edges, creaking hinges and body damage from drops.
As a result the design was changed to toughen up the design. The hinges were made out of stainless steel, the frame and the motherboard seating were reinforced against knocks and twisting and an accelerometer was fitted so that if the laptop was dropped the hard drive was instantly locked to protect it from damage.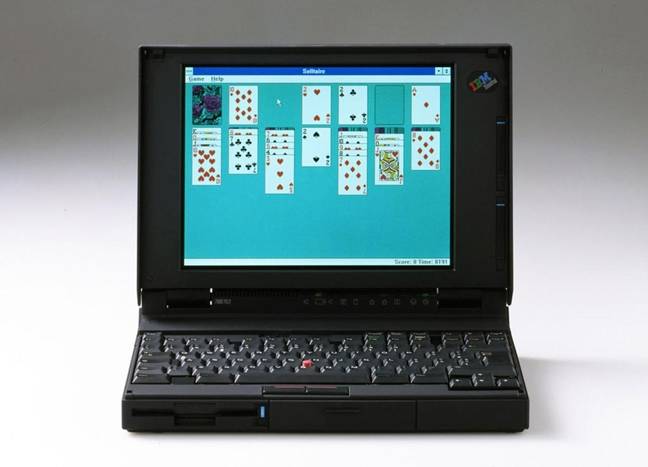 Senior brass at IBM didn't like the concept. For a start all of Big Blue's hardware had a numeric name and the ThinkPad was a departure from that. They even objected to the red color of the touch mouse, saying red was reserved for emergency off switches, so the ThinkPad team just called it magenta instead.
But they were proved wrong (hardly a new occurrence) when the ThinkPad turned into a real success. It helped that it had a fast 486 processor and a very sharp color 10.1-inch screen, but it was the toughness and rugged nature of the laptop that inspired buyers.
Unboxing TECHNICS SL 1200G
Unboxing Technics SL-1200G - wir haben eines der ersten Preproduction Muster in Hamm! 🙂 Wer das gute Stück genauer unter ...
Technics SB-M300M2
Полочные акустические системы Technics SB-M300M2. Год выпуска акустики 1999. Стоимость на момент производства ...