Midmarket gamechanger let down by eccentric imaging
The comparison is illuminating. In the hand, the £399 Honor 10 feels uncannily like the Samsung Galaxy S9.
Huawei really excels at the art of maximising the display as a proportion of the surface area, with over 78 per cent of the Honor 10's front comprising the display. That's less than the 84 per cent on the beautiful, Notch-less Samsung flagship, but hugely impressive when you consider there's room for a fingerprint sensor on the front of the Honor. The point is, they look and feel almost identical. I'd have trouble telling them apart blindfolded.
But the Chinese challenger which arrives on the streets this week is £340 cheaper than the Samsung, and has twice the memory. That's the gulf between near-flagship and flagship in 2018, and £340 buys you a lot of blow.
Casual browsers will want to know what the Honor 10 delivers, but it's probably easier to explain what you don't get, that a top-end flagship offers. Compared to Huawei's own much more expensive £599 Huawei P20, the Honor 10 lacks optical image stabilisation – but that's about it. Samsung offers a superior OLED display panel, super slow mo at 960fps, waterproofing, and wireless charging for £300 more. Nice-to-haves, rather than must-haves. Samsung offers you valuable expandable storage via a microSD card, but Huawei offers twice as much internal storage in the phone: 128GB.
So what do you get, in that so-close-to-a-body-of-a-Galaxy-S9?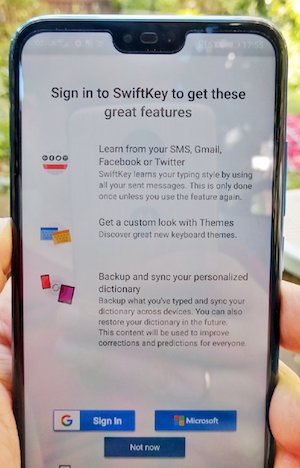 You get dual-sensor imaging, with a decent stab at the fun effects of this year's iPhone and Galaxy: portrait photos that isolate and enhance the subject, and the whacky real-time AR stickers that kids love for an afternoon that nobody ever uses again. The sound is surprisingly strong, with notifications and ringtones clear and loud – one compensation of a phone that isn't IP67 waterproofed.
Call quality and radio reception, it is customary to report on a Huawei-made device, are first rate. Both SIM slots support LTE, and the Honor offers to keep your internet data going on one SIM while you talk on the other.
The nicest surprise – after how much you get in what can almost be called a "compact" – was the inclusion of a 32-bit DAC (an AKM AK4376A), and a 3.5mm headphone jack.
The software bundle is almost identical to the grown-up Huawei models I reviewed recently, only with a little more cruft in the games dept. The striking iridescent display may not to be everyone's taste – HTC recently admitted that its iridescent blue U11 was a comparatively poor seller – but it achieves the expensive look Huawei, oops, Honor was after. Boutique looks at Primark prices, everyone!
Design and hardware
Iridescent blue might not be to everyone's taste, but there's an iridescent grey (which is very evocative of Samsung) option available too. For me it works much better than attempts to tint aluminium (or plastic) with bright primary colours, as it's more subtle than tinted metal and not as cheap and nasty-looking as glossy coloured plastic.
The problem is it makes the phone as slippery as a bar of soap. Retail units contain a cheap but very adequate TPU clear case, which is nice, and pretty essential.
This year's 19:9 displays are a weird anomaly: they allow manufacturers to squeeze in more usable display at the expense of a cutout: the notorious Notch. Until devices get Android P officially supports cutouts, this will result in truncated notifications. But at least Huawei gives you the option of removing it, in both its Huawei-branded and Honor-branded offerings. I did so after 15 minutes and forgot it was ever there.
Huawei has managed to include a fingerprint sensor underneath the glass, so the viewable display area reaches even further to the bottom of the phone. If only they'd put the fingerprint sensor under the viewable display area. It's a halfway house for now. I prefer front-facing fingerprint sensors as it means you can use them much more conveniently with a wallet case. When the sensor is on the rear, the wallet can flip closed and you have to start again.
Honor here gives you four options for navigation here, rather than three as on the Huawei P20s. You can opt to have the traditional soft navigation bar, draw a virtual home button which takes multiple navigation gestures, use the under-glass sensor (again with multiple navigation gestures), or an onscreen blob. Obviously the third option maximises the area for viewable stuff, but perhaps Huawei/Honor was wary that this is almost at the bottom of the phone, and using it might make accidental drops more frequent. I ended up leaving it on. It's up to you.
There isn't much to add about the skin and software bundle: it's almost identical to the EMUI 8.1 on Android 8.1 combination in the P20s. But with the Honor, Huawei continues to bundle the same games as before.
The disappearance of microSD card slots from phones this year was not expected and for many is an unwelcome development. The stonkingly generous inclusion of 128GB goes some way to compensate for it though.
24 hours is not really long enough to get more than a hint of how long a phone can endure. But after a day of intensive use, taking these photos, with two SIMs looking for LTE and email set to push, I had 55 per cent left at 6pm. This is promising.